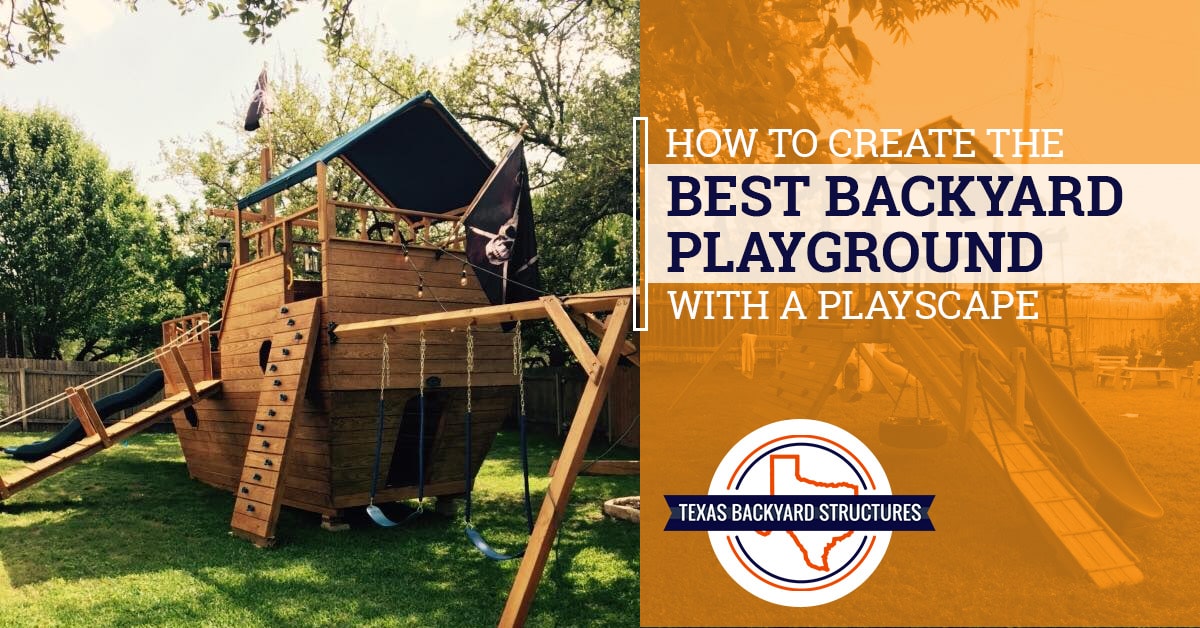 Outdoor adventure is one of the best ways to encourage healthy creative play in children, which is critical to development. Austin experiences over 300 days that are perfect for outdoor play, so investing in turning part of your Texas backyard into a great adventure play area is a great use of space and time. When your kids are looking for the best playground around, you can help them look no further than their own backyard! If they are old enough, they can help you plan what to include, but if you need some creative ideas, Texas Backyard Structures is here to help! In this article, we will explore some ways to make your backyard the ultimate playground for your children.
STRUCTURES
Prefabricated plastic playgrounds or playhouses are great for toddlers or small children. These structures should be considered age-dependent and temporary. Permanent backyard play structures can range from a wooden play house to a full playscape. The backyard structure that you choose depends on the size of your backyard and your budget. The best Texas backyard playscapes include a multi-level playhouse with an attached swingset and slide. Wooden playhouses are durable and can last for 15 to 20 years, which make them an investment that grows with your children. Sandboxes are relatively easy structures to build, but should always include a lid to keep water and critters out. Tree houses are another option if your Texas backyard has sturdy trees.

VEGETATION
Creating a kid-happy space does take some consideration about the vegetation in their play area. Trees are great for providing shade as well as a stable place to attach hammocks, fort ties, or birthday pinatas to. Fragile plants that need great amount of care are less than ideal for a play area, as they are likely to be trampled. Anything that requires heavy watering, fertilizing, weeding, or pest control are also not a good idea; a child's play area should be kept chemical free! If there is an area that is mostly glass or dirt, this is the best play area for kids to push toy trucks around and reduces skimmed knees.
GROUND
Laying sand is a nice alternative to a dirt patch and gives children a specialized play area. Laying a border around the sanded area helps to keep the sand contained to its dedicated space rather than allowing it to scatter into nearby grass. Paving a place with concrete or cement for play offers a dedicated playspace free of vegetation, where a basketball hoop can be installed, sidewalk chalk can be used, and bikes can be ridden. If you are investing in a wooden backyard play structure, laying specialized ground beneath it such as cedar chips, safe-tiles, turf, or shredded rubber are all great ground options for soft landings. If your yard has natural grass, it is naturally a great play area, but little feet can lead to worn patches, a sure sign of adequate outdoor play time.
PLAYGROUND CONTAINMENT
Containing your playground is critically important for safe play. Not only does creating a barrier prevent strangers from entering your yard while your children are at play, but it also helps keep your children safely in the yard by giving the exploration area safe boundaries. Fences are the most common way of containing yards and providing borders. A protective border is essential around hazardous areas such as in-ground swimming pools. Hazards, such as propane tanks, grills, and lawn mowers, should be kept completely contained away from children and pets, such as in a shed or the garage.
WATER PLAY
Water play is not just a way to stay cool in the Texas heat, but is a ton of fun to play in for kids, pets, and parents alike. There are many ways to create water fun ranging from sprinklers to full in-ground swimming pools. Moving sprinklers are an entertaining way to provide relief from the sun while also watering the lawn. Inflatable kiddie pools are easy to set up, fun to play in, and easy to store away. For an extra level of fun, place a kiddie pool at the base of the playscape slide! Larger pools can become permanent structures in the backyard and can accomodate your whole family. Large, in-ground pools are a permanent enhancement to any Texas backyard.
There are dozens of ways to make your backyard the ultimate play area, all it takes is a little imagination and child-like creativity. If you are looking to create the best backyard playground and are looking for playscapes in Austin, Texas; look no further than Texas Backyard Structures. We have backyard adventure wooden playscapes of various sizes to meet the needs of all children and the yards they play in.