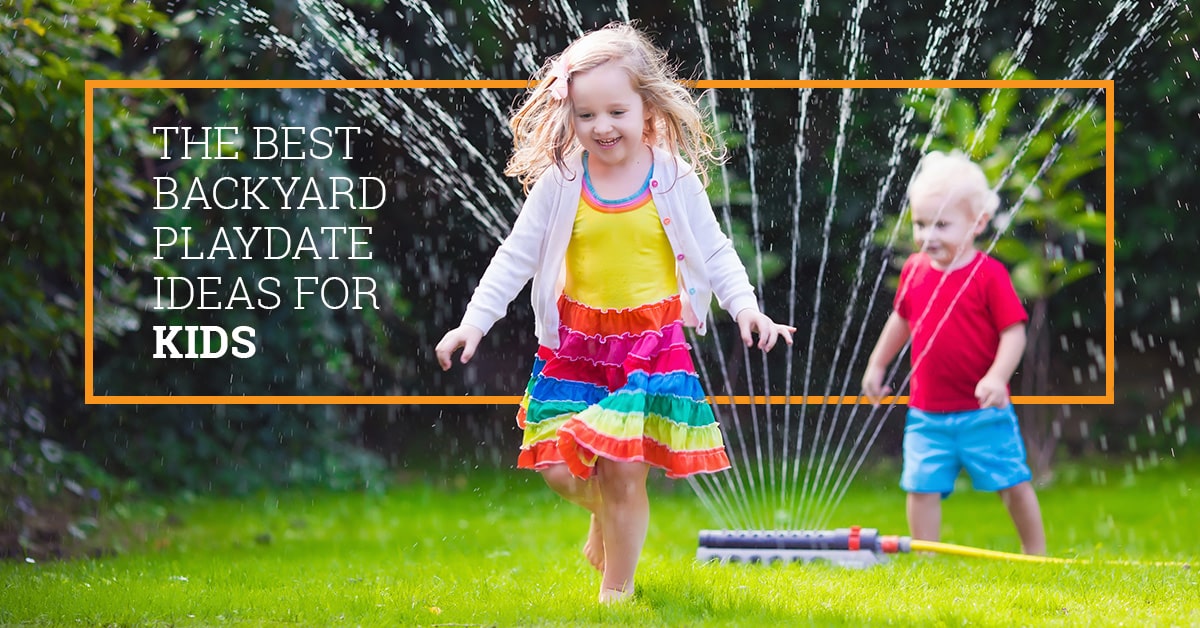 If you're a parent with young kids, it's likely that you need new and fun playdate ideas for your kids on a regular basis. Here at Texas Backyard Structures, the playhouses, trampolines, and playscapes that we sell at our Austin business could create endless playdate opportunities for your children. We've come up with a list of the top playdate ideas for your home's backyard that will keep your kids entertained for hours. And if you know you'd like to purchase one of our playscapes for your Austin home, don't hesitate to shop our playscapes now!
BACKYARD PLAYDATE IDEAS FOR YOUR KIDS
Outdoor play is so important for kids. Anymore, kids are spending more and more time inside and on electronic devices than they are playing outside and using their imaginations. There are endless playdate ideas that you can encourage your young children to take part in that you can make happen right in the comfort of your home's backyard. This makes our playdate ideas both cost-effective, since you won't have to drive your kids somewhere and pay for them to do something, and easy to facilitate. Here is our list of backyard playdate ideas for your kids that can include the use of our playscapes from Texas Backyard Structures:
#1. Let the kids play in the sprinklers.
Here is Texas, it can get hot. There's no better way to let the kids cool down than by allowing them to run through the sprinklers in the backyard. You can create an extra fun element to your kid's playdate when you put the sprinkler under your trampoline and let the kids jump on the trampoline with the sprinkler underneath it. If you don't have a trampoline in your backyard, you can shop our backyard trampolines today!
#2. Host a tea party.
A tea party is the perfect playdate idea for your children who love the idea of dressing up and using their imaginations to pretend that they are having high tea with the Queen of England. You can create an extra special atmosphere for your kid's tea party when you host the tea party in your Deluxe Victorian playhouse from Texas Backyard Structures.
#3. Create an outdoor obstacle course.
Your energetic kids will love the idea of getting to run around through different obstacles—especially if there are prizes to find along the obstacle course. You can have the course include climbing up the rockwall of your Backyard Adventures playset from Texas Backyard Structures and then end with whoever can capture the flag at the end of the slide first.
#4. Have your kids look for a buried treasure.
Find a place in your backyard where you can easily hide a buried treasure for your kids and their friends to find with the use of a custom treasure map that you've created. This activity can be made even more fun when you have a ship playset from Texas Backyard Structures and your kid's, and their friends can pretend the playset is a pirate's ship.
#5. Bring out the costumes.
If you happen to have one of the castle playsets from us here at Texas Backyard Structures, you can allow your kids to dress up as a knight or a princess as they defend their fort from the fire-breathing dragon that is trying to make it to the top of the castle.
Not only does encouraging your children to play in the backyard get them out in the fresh air and allows them to get the vitamin D they need, but it is also a good way to ensure that your kids are using their imaginations. All of your kids' friends will love having playdates with your kids, and you can be happy that you provide fun activities for your kids and their friends to enjoy.
For help with backyard playdates for your children, the playscapes here at Texas Backyard Structures can provide your kids with the ultimate backyard fun. Shop for playscapes in Austin by viewing our online gallery of playscapes today! All of our playscapes are built with high-quality materials to provide the safest playscape experience for your children, and we also offer special financing so you can purchase your family's playscape now!