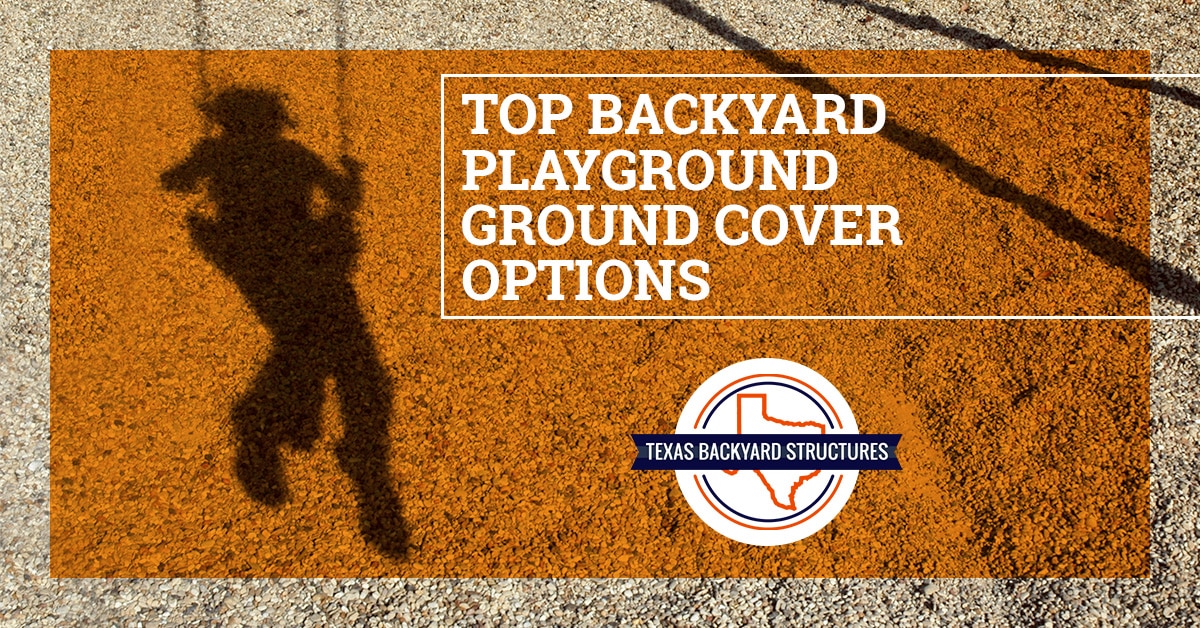 If you have decided to invest in a wooden backyard playscape for your Texas backyard, you have many options for ground cover. Of course, you could just set it up on your lawn, as is, if you have grass. However, using specialty ground cover for your background playscape will add to the visual appeal of your yard and can add an important safety component to your playground.
WALKWAY
Creating a walkway from your back patio to your wooden playscape or play area adds to the aesthetics and helps protect your lawn by defining a walking trail. Creating a dirt trail lined with rocks is perhaps the easiest and least expensive way to create a walkway. Another option is to use stepping stones, you can space them a few inches apart so the children can hop from stone to stone. If you already have hardscaping or a concrete patio, if may be easy to add a small sidewalk.
BACKYARD PLAYGROUND GROUND COVER
NATURAL GRASS
The easiest, cheapest option is to use natural grass- assuming that your lawn is grass scaped already. Using natural grass allows you to not alter the ground beneath the play area, which reduces initial workload and cost. In the long run, natural grass proves not to be the ideal option because it does not provide a soft landing for falls and requires quite a bit of maintenance and upkeep. Mowing the grass around wooden structures proves difficult, especially inside a playhouse. Natural grass is also a natural play area for pests and can harbor bacteria.

ARTIFICIAL GRASS
Synthetic turf grass provides the look of natural grass without the maintenance. Artificial grass never needs to be weeded or watered, while offering a softer landing for play. Although the initial cost of turf is more expensive than natural grass, the overall cost may prove to be lower in a play area because it does not require reseeding, mowing, or chemicals. Using artificial grass will also limit what is tracked into your home on children's feet!
PEA GRAVEL
Pea gravel is fine pebble-like gravel that is commonly used for parking areas, dog runs, and public playgrounds. Pea gravel is an ideal option because it is low maintenance, relatively inexpensive, easy to install, and looks great. However, it does not provide for soft landings for falls and can easily hide dangers such as broken glass or cigarette butts.
POURED RUBBER AND RUBBER TILES
Solid rubber surfaces are fairly common in public playgrounds at parks and schoolyards. Poured rubber and rubber tiles provide a slip-resistant, soft landing. A great benefit is that rubber can be installed in a multitude of colors, allowing you to create a fun playscape. The one downside to poured rubber and rubber tiles is that it is one of the most expensive ground cover options. If the price is not an issue, this is the best option for any climate. If the price is an issue, but the safety of rubber sounds appealing, you can choose rubber mulch instead.
RUBBER MULCH
Shredded rubber mulch is very popular for playground use because it provides the best cushion when children fall. Although rubber mulch may not be the most aesthetically pleasing ground cover option, it is very low maintenance and environmentally friendly because it is usually made from recycled car and truck tires. Rubber mulch is one of the best ground cover options overall, but may not be ideal for Texas backyards due to the heat and sunshine.
WOODEN CHIPS AND MULCH
Wood chips or mulch is commonly used in landscaping. Wood chips and mulch are relatively low maintenance and made of recycled materials, which offers an eco-friendly option. However, like natural grass, natural wood chips and mulch can easily be home to pests, and also allows mold growth. Wood chips do offer soft landings under playscapes, but also presents the potential for splinters.
SAND
Sand has been a traditional playground ground cover for decades. Sand is very affordable and easy to install. If placed thick enough, sand can provide a soft landing and is easy to rake. The downsides to using sand are that it is the glitter of nature and gets everywhere! Sand is incredibly messy and can be more than just pesky when inhaled or trapped in eyes. Because sand can easily shift, it is important to smooth it over every now and again to maintain even thickness.
ENGINEERED WOOD FIBER
Engineered wood fiber is the surface that has a look similar to a corkboard. It is made of pressed wood fibers. Another eco-friendly option, engineered wood fibers are made from recycled wood. This option creates a springy landing for falls and, like rubber tiles, it is available in a variety of colors. Engineered wood fiber is a relatively expensive option.
When you make the decision to create the ultimate backyard playscape for your children, make sure it is complete with the right ground cover. At Texas Backyard Structures, we can build a playscape of your child's dreams and suggest the right ground cover. Come check us out today!