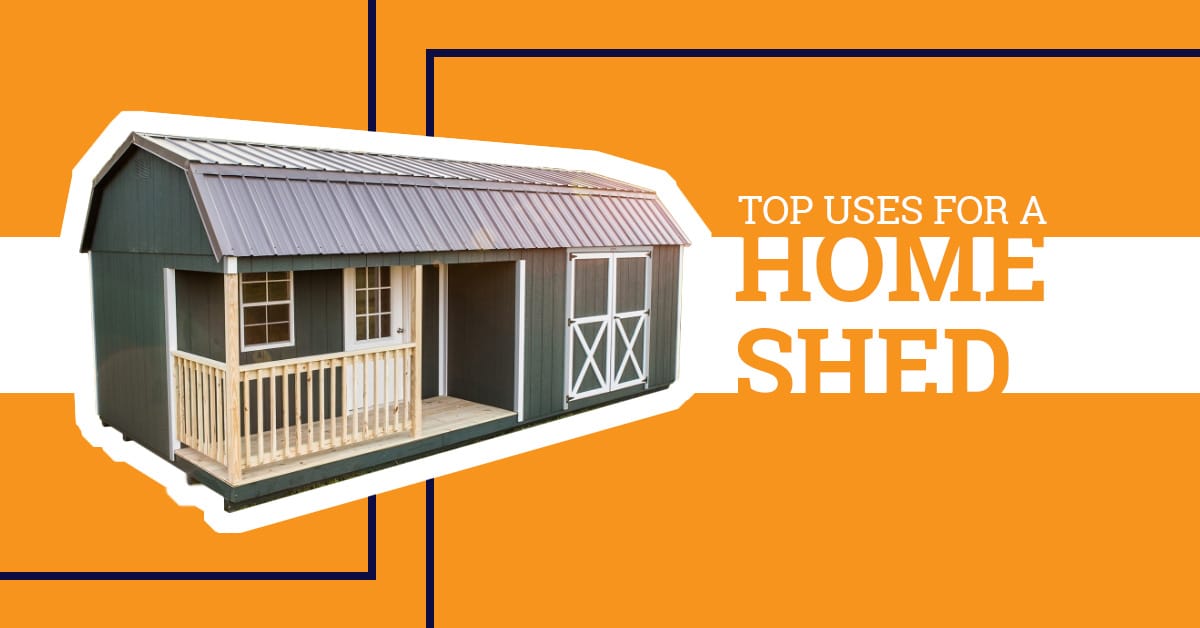 If you've never thought about getting a home shed for your backyard, you could be missing out on a key component for home organization and the ability to create an outdoor space for personal use that has a unique design that is suited to your personal aesthetic preferences. Texas Backyard Structures sells home sheds in Austin that can easily fit into the look and feel that you'd like to create in your backyard by offering distinct styles with customizable options. If you're wondering if a home shed is right for you, and what exactly you could use your home shed for, we've got a list that you might like to take a look at!
THE BEST WAYS TO USE YOUR HOME SHED
#1. Have a dedicated space for storage.
While storage seems like an obvious use for a home shed, we can't leave it off of our list! A home shed is the perfect space to store all of your outdoor equipment and tools that have been creating clutter in your garage. More often than not, people use their garages as their household storage unit, however, wouldn't it be nice to have a home shed dedicated to storage so your garage can go back to simply housing your car?
#2. Create a space for hobbies.
If you have a hobby, such as knitting, quilting, woodworking, or model airplane building, but you don't have a room in your home that you can dedicate to your hobby, a home shed could be the perfect solution! If your dining room table has become your workspace and you need to find a new home to keep both materials and to work on your hobby, a home shed can be setup to store your materials and to create a workspace that take up valuable space in your home.
#3. Get the home gym you've always wanted.
Finding enough space in your home to place a treadmill, bench press, free weights, and have enough space to do squats, push ups, and sit ups, can be quite a challenge. If you've always wanted a home gym, but you don't have the space in your home, you can use a home shed as the perfect alternative for a home gym.
#4. Make your shed into a man-cave.
Again, when space is limited inside, a home shed is the perfect solution for creating additional square footage on your property for personal use. When you have a large enough shed, you can transform the inside to meet the requirements of a man-cave. Bring in some comfortable chairs, a poker table or a pool table, and your shed could be the perfect hideaway. If you'd like to create the ultimate man-cave, you could even consider adding electricity to bring in music or a television.
#5. Create an outdoor changing room.
If you have a pool or a hot tub, but a bedroom or bathroom is not easily accessible from your backyard, a home shed could easily be transformed into an outdoor changing room so guests can quickly change into and out of their bathing suits without having to feel uncomfortable walking around your home in a swimsuit or dripping water on your floors.
#6. Have space for an outdoor bar.
If you like to entertain in your backyard, but you don't have an outside kitchen, a shed could be the perfect place to keep your beverages of choice, along with glasses in order to always be ready to serve guests refreshing drinks to help cool them down.
#7. Store backyard toys and games.
If your kids have taken over the backyard with water tables, slip'n'slides, bikes, toy cars, and more, a home shed could be the perfect place to keep all of their favorite outside toys without having to go between the garage, especially if the garage is in the front of the house, and the backyard. When it's time for the adults to use the backyard, a home shed could make storing kid's toys nice and easy.
These are just some of the many things you could use your home shed for. If you'd like to purchase a home shed in Austin, Texas Backyard Structures can help! Shop our home sheds today!